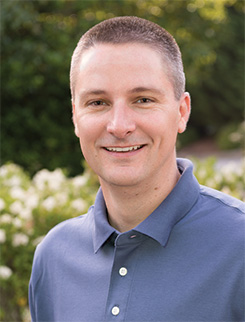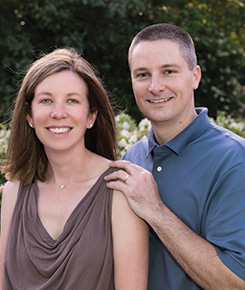 Greenville SC Dentist, Dr. Jason Stack enjoys helping his patients develop and maintain a healthy smile so they can keep their natural teeth.
His priority is to always do what is in the best interest of you and your loved ones, and to be honest with you.  In every case, he strives to do his best to ensure your continued good oral health.
Dr. Stack determined he wanted to become a dentist based on his childhood experience with his orthodontist.  He had crooked teeth and after braces, his teeth looked great.  He wanted to enter a field where he could help people maintain or improve their teeth and smiles.
Due in part to his own childhood experiences, Dr. Stack is a true believer that it's never too soon to teach children about the importance of good dental health. He visits local elementary schools to talk to kindergarten classes during National Dental Health Month every February.  He shares information about why it is important to take good care of your teeth, what happens when you don't, and how best to keep your teeth healthy through brushing and flossing, good choices for foods and drinks, and seeing your dentist at least twice a year for checkups.
Education & Military Experience
A Greenville SC native, Dr. Stack earned a Bachelor of Science degree from the University of South Carolina in 1994. He then attended the Medical University of South Carolina in Charleston, where he graduated in 1999 with a DMD degree.
After graduation, Dr. Stack joined the U.S. Army. He completed the Officer Basic Course at Fort Sam Houston in San Antonio, Texas, and went on to complete a one-year Advanced Education in General Dentistry program in Landstuhl, Germany.  This course provided extensive training with oral surgeons, periodontists, endodontists and prosthodontists.  After completion of that course, he was stationed in Schweinfurt, Germany for three years with the 523rd Dental Company and supported the 1st Infantry Division.  He served a total of four years in the Army.
Private Practice
After his military service, Dr. Stack moved to Spartanburg and worked in private practice for two years before purchasing Dr. Paul Rundberg's Greenville dental practice in July 2006.
Dr. Stack's professional affiliations include the American Dental Association, the South Carolina Dental Association, the Piedmont District Dental Society, and the Greenville County Dental Society.
Family & Personal Information
Dr. Stack and his wife Allison have been married since 1995 and they have two children. His hobbies include running, hiking, biking, water and snow skiing, and gardening.  When he's not at work, he enjoys being outside and spending time with his family.